Republic of Vietnam Cross of Gallantry
with Palm Unit Citation.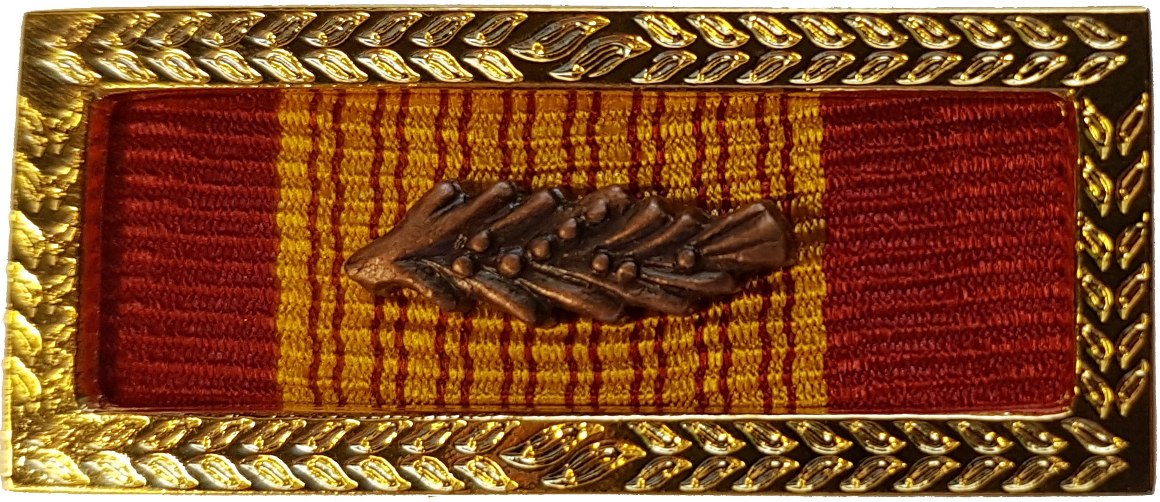 Australian Defence Force members who served during the Vietnam war have been recognised with the Republic of Vietnam Cross of Gallantry with Palm Unit Citation.
The Citation was awarded by the former Government of the Republic of Vietnam (South Vietnam) to specific military units that distinguished themselves in battle. The Governor-General has formally approved the awarding of the Citation to identified Australian military units in recognition of their service during the Vietnam war.
Eligibility
To be eligible for the Citation, Navy and Air Force members must have served in Vietnam under the command of United States Military Assistance Command Vietnam posted to one of the following units, during the eligible dates:
Navy
Clearance Diving Team Three from 5 February 1967 to 5 May 1971

RAN Helicopter Flight Vietnam from 16 October 1967 to 8 June 1971

RAN personnel in 9 Squadron from February 1968 to April 1969 (8 personnel)
Air Force
RAAF Transport Flight Vietnam/35 Squadron from August 1964 to February 1972

9 Squadron from June 1966 to December 1971

2 Squadron from 19 April 1967 to 15 July 1971.
The Governor-General has previously approved the following Army units to wear the insignia of the Citation for their service in Vietnam.
Army
Australian Army Training Team Vietnam from 1 July 1962 to 31 October 1971

1RAR - Eligible personnel must have served in Vietnam under command of 173rd Airborne Brigade during 5 May 1965 to 31 May 1966 in one of the following units, within the eligible dates:

1st Battalion, The Royal Australian Regiment from 25 May1965 to 31 May 1966

1st Armoured Personnel Carrier Troop RAAC from 15 June 1965 to 31March 1966

105th Field Battery, RAA from 14 September 1965 to 31 May 1966

3rd Field Troop, RAE from 14 September 1965 to 31 March 1966

161st Reconnaissance Flight, AAAVN from 14 September 1965 to 31 May 1966

1st Australian Logistic Support Company from 25 May 1965 to 31 March 1966

Battery Section, 4th Field Regiment Light Aid Detachment RAEME (and redesignated in country to 105th Field Battery Section, 12th Field Regiment Light Aid Detachment RAEME) from 14 September 1965 to 31 March 1966

Strength of D Company 6RAR in Vietnam on 18 August 1966

8RAR from 28 November 1969 to 24 October 1970
Wearing
Individuals are not eligible to wear the Citation device until they have been formally approved to do so through the application process.
Because this 'award' is a citation and not a medal, it is worn on the right side (of the body) and not above or with awards or medals on the left.
Applications
Individuals who believe they could be eligible are asked to submit an application. Family members of deceased Australian Defence Force members who may be eligible are asked to submit an application. See Granting of Unissued Service Awards of Deceased Members
Exchange
The palm on the Citation is bronze, rather than gold, and previously issued citation devices are incorrect. Personnel wishing to obtain the bronze palm device should return their existing device for replacement. Ensure full name, service number, address and contact details are included with the returned device. The mailing address is:
Directorate of Honours and Awards
Exchange Citations
PO BOX 7952
CANBERRA BC ACT 2610
Background Information on newly identified eligible units.
Royal Australian Navy Clearance Diving Team Three.
In late 1966, Clearance Diving Team 3 (CDT 3) was established specifically for deployment to the Vietnam War to assist the overworked United States Navy Explosive Ordnance Disposal units. This also gave Royal Australian Navy personnel an opportunity to complete clearance diving work in an operational environment. Sending CDT 1 or CDT 2, in full or in part, would have impacted on the teams' existing commitments, along with the continuity of training and postings. CDT 3 was formed from available personnel; this was sufficient to keep a six-man team on station in Vietnam from early 1967 until early 1971, with six-month deployments. CDT 3 was disbanded at the end of the Vietnam War.
Between February 1967 and May 1971 eight contingents of RAN clearance divers deployed to
South Vietnam.
The first contingent of six men arrived in Vietnam on 6 February 1967. This team was initially attached to a United States Navy explosive ordnance disposal team stationed in Saigon. They then relocated to Vung Tau assuming responsibility for the defence of shipping against enemy attack, known as Operation Stable Door. There the team was responsible for searching the hulls and anchor cables of shipping in the Vung Tau anchorages, or alongside, for improvised explosive devices or the presence of enemy swimmers. Additional tasks involved the salvage of downed military helicopters, searching villages for ammunition caches and demolishing Viet Cong cave and tunnel complexes.
As part of its original directive, CDT3 was prohibited from participating in SEAL type operations (United States Navy Special Forces) or operations conducted along the Cambodian border. The restriction on the former was removed in January 1969, thereby permitting team members to make full use of their unique skills. As a consequence, the operational focus from 1969 shifted towards the provision of explosive ordnance disposalsupport for offensive operations, with team members frequently attached to United States and South Vietnamese Special Forces. These operations intensified in 1970 such that individual members often came under enemy fire while they were engaged in destroying bunker complexes, tunnels, trenches, observation posts and log barricades erected by the Viet Cong in the rivers and waterways of the Mekong Delta.
Royal Australian Navy Helicopter Flight Vietnam
Between 1967 and 1971, the Royal Australian Navy Helicopter Flight Vietnam (RANHFV), was fully integrated with the US Army 135th Assault Helicopter Company (AHC) flying Iroquois helicopters in both the utility and gun-ship configurations. The role of 135th AHC was to provide tactical air movement of combat troops, supplies and equipment in air-mobile operations. This included augmentation of army medical services, search and rescue and the provision of a command and control aircraft capability. The RANHFV ceased operations on 8 June 1971.
During its four-year deployment to Vietnam, over 200 FAA personnel had rotated through the RANHFV in four contingents. They were continuously engaged in offensive operations over this
period.
Royal Australian Air Force Transport Flight Vietnam/35 Squadron
In May 1964, six of the RAAF's new Caribou transport aircraft were sent to Vietnam and it was decided to establish the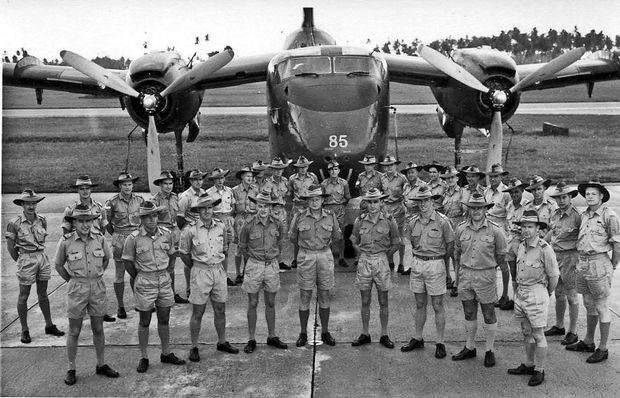 new unit for Vietnam in Butterworth and the RAAF Transport Flight Vietnam (RTFV) was formed on 21 July 1964. On 8 August RTFVs first three Caribous arrived at Vung Tau, Vietnam with the Caribous being integrated into the Southeast Asia Airlift System, operated by the United States Air Force (USAF) and became part of the 315th Troop Carrier Group (Assault), which later became the 315th Air Commando Wing. RTFV flew its first operational mission on 14 August.
The unit transported personnel and equipment into some 115 air fields of varying surfaces and dimensions throughout the Republic of Vietnam. The Caribous also carried livestock, mail, fuel drums, and even peasant workers. As the RTFV aircraft used the call-sign Wallaby, the unit quickly became known as Wallaby Airlines
On 1 June 1966, RTFV was renamed 35 Squadron at Vung Tau in South Vietnam, assigned to the 834th Air Division, of the USAF Seventh Air Force. By June 1971, the squadrons remaining seven aircraft were reduced to four with the squadron flying its last operation on 13 February 1972.
Royal Australian Air Force 9 Squadron
In Jun 1966, 9SQN was based at Vung Tau providing troop-lift capacity for the 1st Australian Task Force, and re-supplying troops in the field with food, ammunition, clean clothing and stores. In 1967 the squadron was re-equipped
with updated versions of the Iroquois, and was also reinforced with personnel from the RAN and the Royal New Zealand Air Force. Operations in South Vietnam proved hazardous, with aircrews regularly exposed to ground fire, poor flying conditions, nighttime medevacs and dangerously small jungle landing zones that were sometimes booby trapped with land mines. The unit lost seven Iroquois and two crewmen in action during its deployment. As part of the general Australian withdrawal, No. 9 Squadron departed South Vietnam on 8 December 1971.
Eight RAN pilots were attached to 9SQN , the RAN detachment to 9SQN played a significant part in enabling it to meet its army support role in Phuoc Tuy Province during 1968 and into 1969, until the last of Navy's pilots returned home in May that year.