Tell Us Your Wallaby Airlines Stories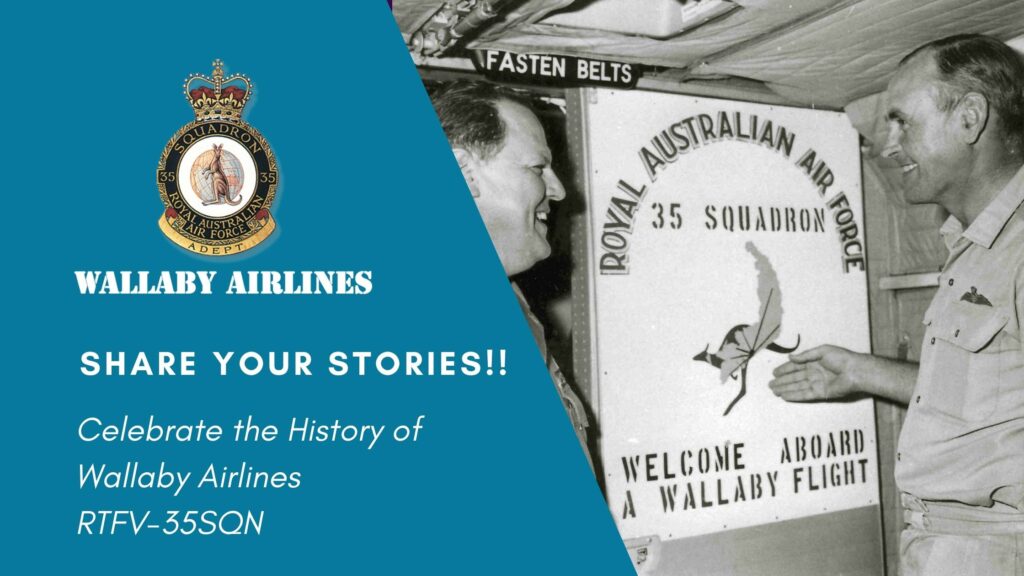 Please be advised:
We are compiling a video to showcase Suggy's Men – which means we need to hear your stories!! Each of you will have a mobile phone – or at least know someone with a mobile phone. You can record a video with you sharing your story. You will be able to view the full compilation when we finish the project – Also You will be able to purchase full access to film online after completion for your own use. We will keep you posted about dates and so forth. Here are the instructions below…
Time: 10-15 minutes (Max)
Intro: Say your name, rank, and time of service -  then go into your story.
Equipment:
Simply use your phone video camera. Or borrow someone's phone.
Strong Light Source in front of you.
Tips for a good video:
Good lighting in front of you – don't record with light behind you.
Phone should be at least 2 feet away from you – not more than 3ft.
Sit down when you share your story.
Don't forget to look at the camera while recording.
Speak loud and clear. (Rewatch your story to check you can hear yourself - Grand Kids are a great resource they know this stuff!)
Place your phone on table/chair/shelf to record – we want the phone to be "still" during recording.
Best time of day to record is midday – 3pm – for best lighting.
Full dress should be worn – no singlets and no bare chests please – this should be respectful and family friendly.
Step-by-step Guide to UPLOADING
Here is the how to video for uploading files to onedrive. Click here
Link to Folder – share your videos here.
Here is the link to the shared folder. Click here